What do you think about Resounding Success At Little Artists' 20th Anniversary Laureates Exhibition At National Gallery Singapore (2 & 3 September 2017)?
More than 4,000 visitors showed their support as Little Artists Art Studio marked its 20th Anniversary with an art exhibition at the National Gallery Singapore.  Over the 2 and 3 September 2017 weekend, artworks by 258 emerging young artists aged 2.5 to 17 years, and 2 adult students impressed guests and visitors. Visitors included supportive art luminaries who have come from as far as Romania, the UK and USA; the local and expatriate families of the multi-racial artists, as well as art lovers.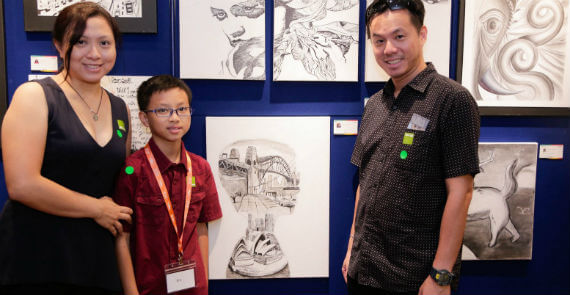 The exhibition titled 'Little Artists' 20th Anniversary LAUREATES Exhibition", was opened by Shalini Kapoor, Founder & Director of Little Artists Art Studio, and was co-presented by sister company, Artrageous, which organises chic contemporary art events.  The exhibition focused on painting, sketching, sculpture, photography and digital media.
Singapore's most celebrated art educator, Milenko Prvacki, who is a famed Contemporary Artist and recipient of the prestigious Cultural Medallion Award for Visual Arts in 2012, as well as Senior Fellow at LASALLE College of the Arts where he was Dean for 17 years, was the Guest of Honour at the opening.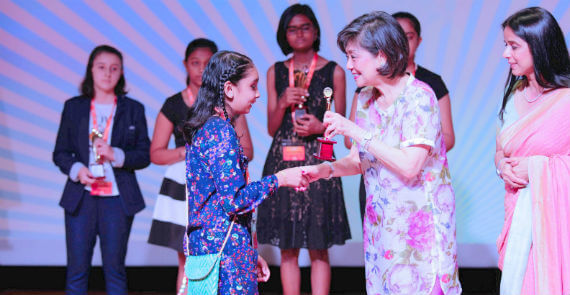 Shalini was joined by Deputy High Commissioner of India to Singapore, Mr. Ninad Deshpande, who gave glowing remarks on the wealth of Singapore's art and how in only 1.5 months of his being in Singapore, he has witnessed astounding art in this country. He was astonished by the depth of the young emerging artists in the exhibition and their technical abilities at such young ages. He felt educators like Shalini had left an indelible mark on the arts scene in Singapore.
In conjunction with the exhibition, a series of talks and panel discussions were held. Guest of Honour, Milenko Prvacki, showed a video of his artworks on 2 September 2017. He commented that Shalini Kapoor and Little Artists are pioneers in Fine Arts education in Singapore and are paving the way for an art literate society. He was impressed by the young emerging artists, and at the exhibition, he took time to speak to them about their works.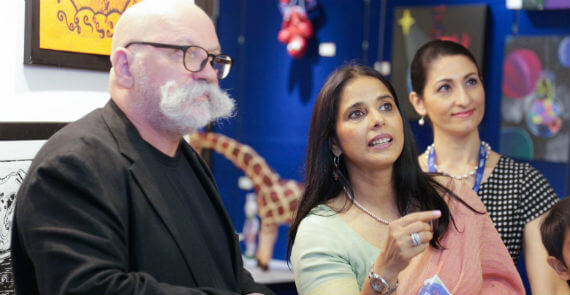 The presentation was preceded by a talk by another important guest, Dr. Trisha Craig, Dean of the Centre for International and Professional Experience, Yale-NUS College, about contemporary art in Singapore from an educator's point of view. She spoke about how liberal arts education and collaborations between Little Artists and Yale-NUS College have forged new avenues for young creatives.
Other speakers such as rising contemporary artists, Lydia Janssen (USA) and Nicola Anthony, (UK) shared their quirky experiences as artists and gave helpful tips to artists-to-be, on the 3rd of September. Their message to emerging artists is to work hard, set yearly goals and move steadily towards them.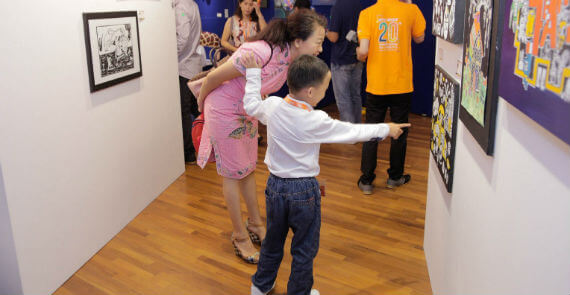 On the topic of education in the arts, Shalini said: "We expose our young students to a vast world of Visual Arts experiences in a different way. We help them first to have fun, then build their confidence in expressing themselves. Through our guidance and sometimes art therapy for those who need it, the children will gain knowledge."  She added, "We give them a platform to be themselves, communicate openly and release their talents. This inaugural LAUREATES Exhibition was a launchpad for these emerging talents.  The development of each and every individual is at the core of what we do."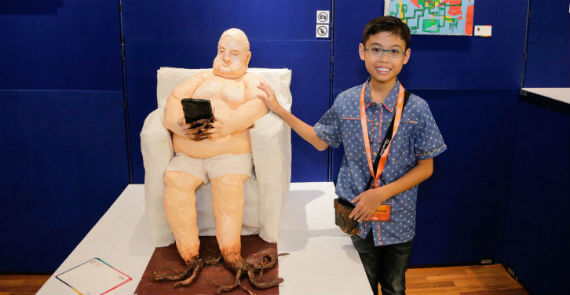 Success comes with support.  Mrs. Ong-Ang Ai Boon, Director, Association of Banks in Singapore spoke about how parents should not try to set a path of railway tracks for their children. Parents should let the children show them - unencumbered - the path they will excel in. She commended Shalini's dedication to each student and the way she creates opportunities for children to reach their absolute potential.
Themes showcased at the exhibition
The artists were asked to choose a topic of their choice to work on, ranging widely from Candy to Environment, to Beautiful Still Life.  They were encouraged to create original works utilising styles and techniques of Master Artists.  Their thoughts and ideas on the chosen topic were then creatively communicated through symbols. Aesthetics is secondary. This resulted in the children presenting exuberant portrayals of the world around them.
Highlights
Youngest Artist Exhibited
Lily Yasmin is one of the youngest artists who exhibited at 4 years old. She is able to improvise, using different tools to create her art, and enjoys using vibrant colours in her artworks.
A Gifted Youth
Seagate Lim, 12 years old, has Asperger Syndrome and a Sensory Disorder, but has found sanctuary in Little Artists Art Studio, and in the process of creating art.
Oldest Young Artist Exhibited
At 17, Aseem Mehra is the oldest of the youths in the Studio who exhibited, and is also a proficient fine art photographer.
Charity Outreach
In an effort to inspire children to help other children through art, Little Artists is donating all ticket proceeds and postcard sales of young artists' works to a local children's charity. A core theme of Artrageous is to do good through art, and this is the first art venture held to that mission.
Speaking Programmes
2 September: Who Wants Me? Alan Koh and Saskia Joosse spoke about art from behind the scenes of an Art Fair and a Gallery. They discussed how artists can get showcased at events, stand out from their peers and stay relevant to the scene. Saskia Joosse, Owner, Pop and Contemporary Fine Art wrote after the show, "I thought that the exhibition looked amazing and that you have indeed fostered some amazing young talented artists at your school throughout the years."
3 September: Art Now. Two rising contemporary artists, Nicola Anthony, represented by Intersections Gallery, and Lydia Janssen, represented by REDSEA Gallery, shared tales and anecdotes about life as an artist. They also showcased their works and gave advice to aspiring artists.
About Little Artists Art Studio
Little Artists Art Studio (founded 1997) is an award winning Fine Arts school committed to nurturing creativity in children from all walks of life. It believes in Fine Art for all and that even the youngest child can create wonder and beauty across numerous mediums. Its tailored programs help develop motor skills, ability across numerous mediums like acrylic, oil, charcoal, pastel, mix media, ink as well as many forms of art - painting, sketching, design and sculpture printmaking, and exposure to Art History. 
About Artrageous
Artageous (founded 2016) creates inspiring Contemporary Arts events and programs that shine a light on young and mature emerging artists from around the world right here in Singapore.  It has an overarching mission and ethos of inclusion and celebration of diverse talents of all ages, both for hobbyists and artists training seriously.  It does this with a focus on giving back to our community.  It produces Fine Art Events at prestigious or contemporary locations, such as National Gallery Singapore and The Arts House. Artrageous also organises corporate social responsibility activities and workshops for underprivileged children and adults.
Comments
The 214-seat auditorium was at full capacity over 2 and 3 September. The art exhibition hall attracted tremendous footfall. Breaking with tradition, National Gallery Singapore invited Little Artists back again next year. Proceeds including those from sale of postcards of the artists' art pieces, will be donated to a children's charity. All this success is partly due to the firm support of Expat Choice Asia. In giving thanks to John Gordon and the Team at Expat Choice Asia, I took to the microphone at the auditorium and brought the audience's attention to the Expat Choice Asia's website, asking them to share their comments on your site so that you will be able to share them on your social media platform. On the spot, I could see parents checking your site out using their mobile phones.