What do you think about Ms. Lauryn Hill and Jamie Cullum to Headline SING JAZZ 2018 at Marina Bay Sands?
12 Mega Acts, 30 Hours Of Music And 20,000 Fans At The Singapore International Jazz Festival 2018
*Early Bird Tickets go on Sale: Thurs 1 Feb at 12pm
The eagerly anticipated 5th anniversary of the Singapore International Jazz Festival (SING JAZZ) 2018 returns to the iconic Marina Bay Sands from 6 to 8 April, and is all set to excite over 20,000 fans with a distinctively curated musical line-up. The three-night music extravaganza spans across multiple stages around the integrated resort to feature Jazz and all its affiliated genres, including Soul, Blues, Latin, Funk, R&B, Hip-Hop, World Music and Electro Swing.
The Main Stage and The Late Show combine with an impressive 30-hours of live music by 12 mega-acts across the entire weekend. On Friday 6 April, Electro Swing sensations, Parov Stelar will headline the sunset sessions on The Main Stage by the waterfront at Marina Bay Sands Event Plaza, introducing a massive weekend of music.
'Super Saturday' features a stunning programme comprising five-time Grammy Award-winning soul singer Lalah Hathaway, and jazz-pop genius Jamie Cullum on The Main Stage, with legendary hip-hop and soul artist Ms. Lauryn Hill headlining The Late Show.
Performing in Singapore for the very first time, Ms. Hill's show will be one of the most highly anticipated performances of the year, fittingly as her monumental album, The Miseducation of Lauryn Hill, hailed as "one of the most incredible albums ever made", marks its 20th anniversary in 2018.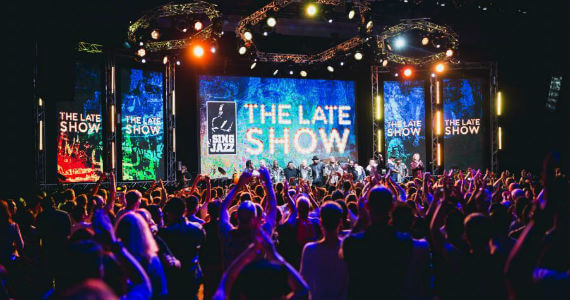 Setting the scene for party-goers, the electric atmosphere of The Late Show indoors at Sands Expo and Convention Centre will be designed as an intimate concert arena (complete with VIP tables), taking the late-night experience till 4am on both Friday 6 and Saturday 7 April.
Tickets, VIP Passes & Tables and Corporate Hospitality available from 12pm on Thursday 1 February via the website here
Comments
Two fabulous performers. Lucky to have them both in for Sing Jazz!
There is a lot to be said about SING JAZZ. Above and beyond the music - the atmosphere is electric. I attended two days and nights of shows last year and I couldn't get enough of the vibe... it was nothing short of brilliant. The performers are of world-class caliber. rounding off the festival on Day three and in fact, the entire Sing Jazz 2017 was the super team Hitman David Foster & Friends, featuring stars and music legends Chaka Khan, Brian McKnight, Thirdstory, Dira Sugandi and Nick Zavior. David Foster even invited a fan, Roze Kasmani, up from the audience to join him on stage for a song, making her dream come true and an unforgettable weekend overall at Marina Bay Sands. Now we only need to wait for a few more weeks before the next edition returns?