What do you think about Austrian Wine Week Singapore Mon 13 - Sun 19 Nov 2017?
The Austrian Wine Week 2017 is coming up again in November with a total of six Austrian top wine makers and one award winning distiller at different venues all over Singapore.
The event is founded and organized by Klaus Leopold, owner of leopold gastrobar, Vinothek leopold and Leopold Spirits. This year's offer includes a traditional Austrian Heurigen wine tavern dinner pairing at leopold, a five course surprise menu at Chef's Table by Chef Stephan followed by a big bottle free flow party with bottles up to 18 liters and live saxophone entertainment at LeVel33, a fine dining Western – Chinese 4 hands dinner at the Cassia restaurant at Capella Hotel Sentosa, a unique 5 course dinner pairing with a garden aperitif at Swiss Club, an exclusive Catamaran Motor Yacht tour with wine tasting and finger food from One 15 Marina Sentosa to Lazarus island as well as a wine portfolio tasting of more then 40 wines at Vinothek leopold. Book your tickets here.
Event 1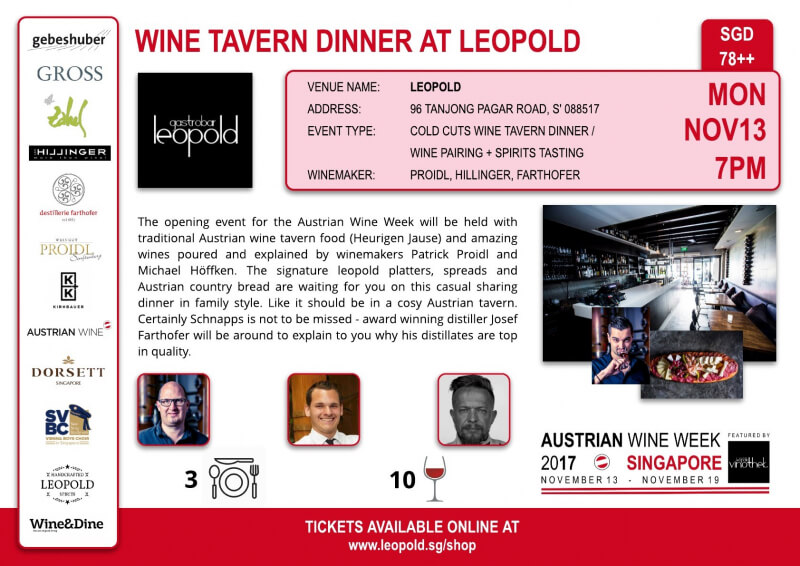 The opening event for the Austrian Wine Week will be held with traditional Austrian wine tavern food (Heurigen Jause) and amazing wines poured and explained by winemakers Patrick Proidl and Michael Höffken. The signature leopold platters, spreads and Austrian country bread are waiting for you on this casual sharing dinner in family style. Like it should be in a cosy Austrian tavern. Certainly Schnapps is not to be missed - award winning distiller Josef Farthofer will be around to explain to you why his distillates are top in quality.
Event 2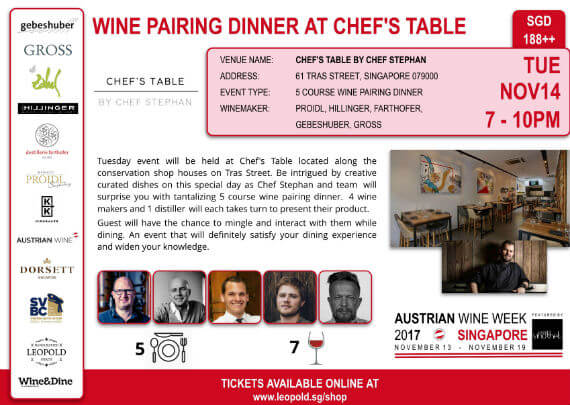 Tuesday event will be held at Chef's Table located along the conservation shop houses on Tras Street. Be intrigued by creative curated dishes on this special day as Chef Stephan and team will surprise you with tantalizing 5 course wine pairing dinner. 4 wine makers and 1 distiller will each takes turn to present their product. Guest will have the chance to mingle and interact with them while dining. An event that will definitely satisfy your dining experience and widen your knowledge.
Event 3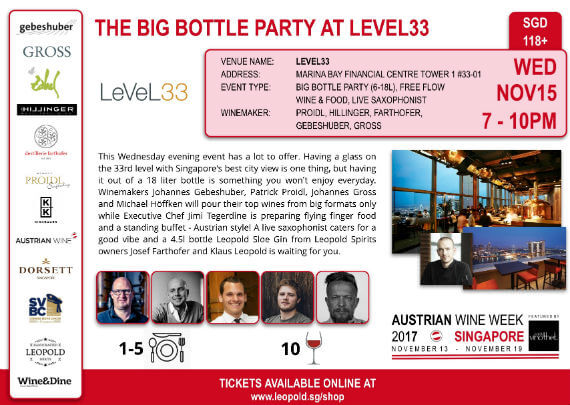 This Wednesday evening event has a lot to offer. Having a glass on the 33rd level with Singapore's best city view is one thing, but having it out of a 18 liter bottle is something you won't enjoy everyday. Winemakers Johannes Gebeshuber, Patrick Proidl, Johannes Gross and Michael Höffken will pour their top wines from big formats only while Executive Chef Jimi Tegerdine is preparing flying finger food and a standing buffet - Austrian style! A live saxophonist caters for a good vibe and a 4.5l bottle Leopold Sloe Gin from Leopold Spirits owners Josef Farthofer and Klaus Leopold is waiting for you.
Event 4
Cassia at Capella Hotel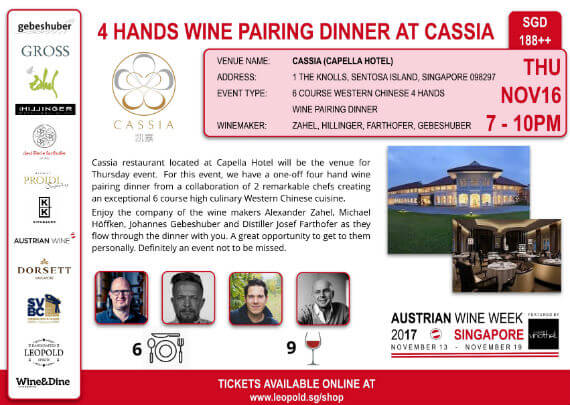 Cassia restaurant located at Capella Hotel will be the venue for Thursday event. For this event, we have a one-off four hand wine pairing dinner from a collaboration of 2 remarkable chefs creating an exceptional 6 course high culinary Western Chinese cuisine. Enjoy the company of the wine makers Alexander Zahel, Michael Höffken, Johannes Gebeshuber and Distiller Josef Farthofer as they flow through the dinner with you. A great opportunity to get to them personally. Definitely an event not to be missed.
Event 5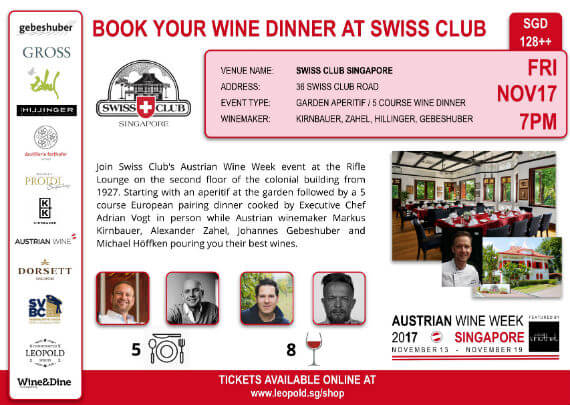 Join Swiss Club's Austrian Wine Week event at the Rifle Lounge on the second floor of the colonial building from 1927. Starting with an aperitif at the garden followed by a 5 course European pairing dinner cooked by Executive Chef Adrian Vogt in person while Austrian winemaker Markus Kirnbauer, Alexander Zahel, Johannes Gebeshuber and Michael Höffken pouring you their best wines.
Event 6
Catamaran Motor Yacht Tour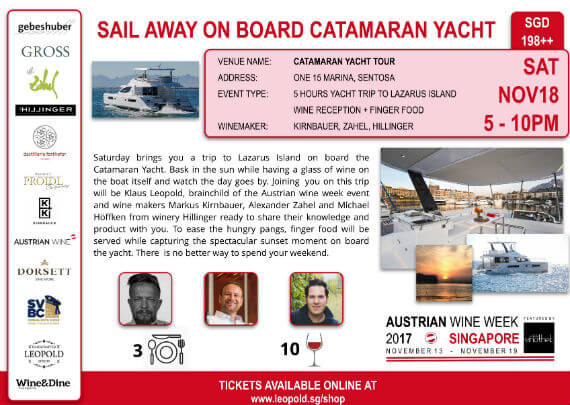 Saturday brings you a trip to Lazarus Island on board the Catamaran Yacht. Bask in the sun while having a glass of wine on the boat itself and watch the day goes by. Joining you on this trip will be Klaus Leopold, brainchild of the Austrian wine week event and wine makers Markus Kirnbauer, Alexander Zahel and Michael Höffken from winery Hillinger ready to share their knowledge and product with you. To ease the hungry pangs, finger food will be served while capturing the spectacular sunset moment on board the yacht. There is no better way to spend your weekend.
Event 7
Vinothek leopold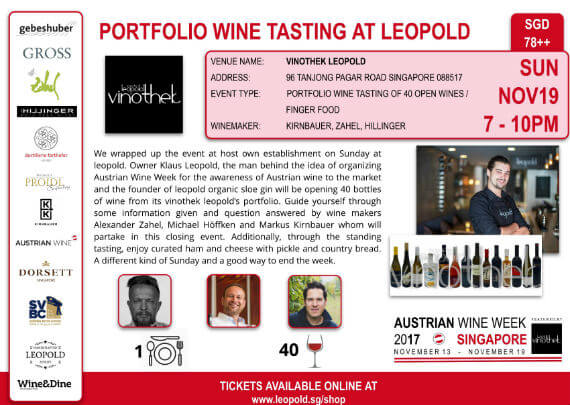 We wrapped up the event at host own establishment on Sunday at leopold. Owner Klaus Leopold, the man behind the idea of organizing Austrian Wine Week for the awareness of Austrian wine to the market and the founder of leopold organic sloe gin will be opening 40 bottles of wine from its vinothek leopold's portfolio. Guide yourself through some information given and question answered by wine makers Alexander Zahel, Michael Höffken and Markus Kirnbauer whom will partake in this closing event. Additionally, through the standing tasting, enjoy curated ham and cheese with pickle and country bread. A different kind of Sunday and a good way to end the week.
Comments
Super excited to be attending the Austrian Wine Week this year. Our pick is Chefs Table Tuesday 14 November for a night that I'm sure will be remember by all in attendance. A great initiative by Klaus Leopold bringing this festival together for the second year running. Book now and secure your seats at one of the most unique festivals in 2017