Pictured: Founder Franck
Amazing place to grab a quick breakfast, brunch, lunch or dinner in the CBD. Stepping in to My Awesome Café takes you away from work life, the polished surfaces in the CBD. The salads are generous, and the lasagna delicious and hearty. Wine and Beer flow aplenty.  The road to My Awesome Café did not only start with the renovation of a historical shophouse. It started way before, with the decision to take a leap of faith.  For Franck, the founder - a consummate F&B expert, it was a challenge to be on his own. But a challenge he doesn't face alone. He inspires everyone in his team to serve awesomeness, as he does, all the time. My Awesome Café is a business, as much as it is a playground, a school, a home. In their own little way, they hope to share with you the familial spirit that puts a smile on your faces that keeps us going everyday. read more...
Grill and Chill at Oasis Daily BBQ Dinner Grand Hyatt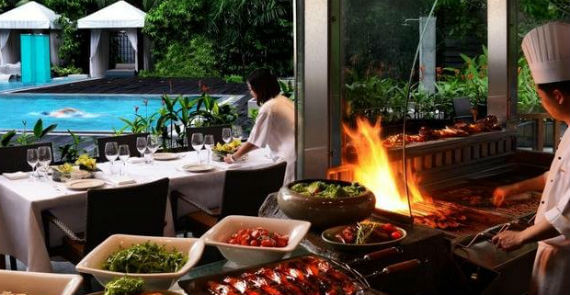 Oasis is Grand Hyatt Singapore's all-day dining and al fresco poolside restaurant. Enjoy a wide selection of freshly-grilled meat and seafood prepared daily à la minute on an open charcoal-fired grill with free-flowing prosecco, beers, wines, margaritas and soft drinks daily from 5:30 pm to 9:00 pm. Priced at SGD 88.00++ (per adult) and SGD 48.00++ (per child). On Thursday, Friday, Saturday and Sunday, guests can enjoy our extended buffet spread including a seafood bar on ice and tasty vegetable dishes from the sizzling Mongolian grill in addition to all-you-can-eat selections. From Sunday to Wednesday, diners can sit back to enjoy delicious items from the grill as they are all served direct to the table. These include slow-roasted short ribs with homemade barbecue sauce, Spencer Gulf sustainable leader prawns, grass fed flat iron steak, lamb-rosemary sausages, gai yang (Thai-style chicken), an appetising variety of salads and desserts. read more...
read more